With over 20 years working in the healthcare sector as a recruitment agency and regulated care provider, Network Healthcare and its sister brand Topcare has all the experience you will need to set up and run a successful recruitment business.
And thats just the tip of the supporting 'iceberg'...
You will be fully backed up by the largest private recruitment company Pertemps Network Group who have 60 years experience creating and growing recruitment brands just like yours!
And, our Director of Brand Partnerships, Gavin Chase, has over 30 years experience as a specialist headhunter globally with 15 years experience in the franchise sector, both as a franchisee and franchisor.
| | | |
| --- | --- | --- |
| | | The man who oversaw the rise of Pertemps, Tim Watts, can still be found working tirelessly in his Meriden office every day of the working week |
"You really couldn't be in better hands when launching and developing a recruitment agency in the growing care sector!"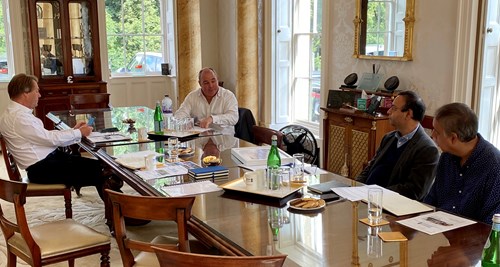 A Brand Partnership means all this and more... 
Induction
Topcare's in-depth induction course delivers a high standard of functional recruitment training, aimed at emboldening the experienced recruiter, whilst providing foundational instruction for those with little or no recruitment exposure.
The induction programme is delivered as an inclusive four-day course, offering a skills-based approach to learning, which incorporates practical business planning and the practical application of our methodology.
Training
Topcare courses are delivered by an experienced executive recruiter who delivers and disseminates our unique search methodology, in an easy to grasp style.  Topcare believes that training should be delivered by those who have current recruitment exposure in the care sector and you will also have free access to multiple online modules.
Everyone, from time to time becomes a little rusty or we allow bad habits creep in to our everyday routines, so we help mitigate some of these by running quarterly refresher courses and masterclasses.
Ongoing Support
No matter what your level of experience, we provide a full range of support functions once the induction course is over; team and individual mentoring (Face-to-face or online), as well as providing coaching and specific 1-1 support, as required. Monthly 1-1's with all partners and are always available as a sounding board and to accompany partners on client visits, assisting you in developing your business.
Full back office support
As Topcare is a Pertemps Network Group company, all your invoices are raised by Pertemps. All your credit control is managed by Pertemps too and as the company is a £1bn turnover business, all your fees are factored. This means you get paid on the 15th of each month, after you've submitted a placement report

Credit control & invoice factoring – vital for cash flow!
Finance support
Full IT support & Office365
Documentation including Terms of Business and help in tendering
Legal Advice
Membership of the British Institute of Recruiters
Want to know more about starting a recruitment agency in care?
0121 728 8958